Get the Competitive Edge With Managed IT Services From MetroTech
Technology At It's Best. Help Your Business Grow
MetroTech Business Technology Partners is a managed IT services and support company based in Clearwater, Florida with a strong emphasis on computer security and protecting your company's data. We serve businesses throughout the Tampa Bay area.
MetroTech helps make managing your business technology easy by developing a proactive strategy instead of always reacting to problems when they come up. Our solutions keep your business operating smoothly and our dedicated IT support staff is on hand to monitor your systems and take care of your business technology when it needs it most. We take our managed IT services seriously and strive to treat you as if you were our only client. We don't hide behind the internet or email. Our ability to provide one on one personalized service along with cutting edge technology solutions for your business is what sets us apart.
We believe that technology plays a vital role in every business today. We can help you create a custom tailored plan that helps you get the most out of your IT solutions for your particular business. From cloud computing, data backup, server maintenance and IT support, our managed IT covers a wide range technology services for your business.
MetroTech has been one of Tampa Bay's leading IT service providers for over 10 years. How can we help you with your technology today?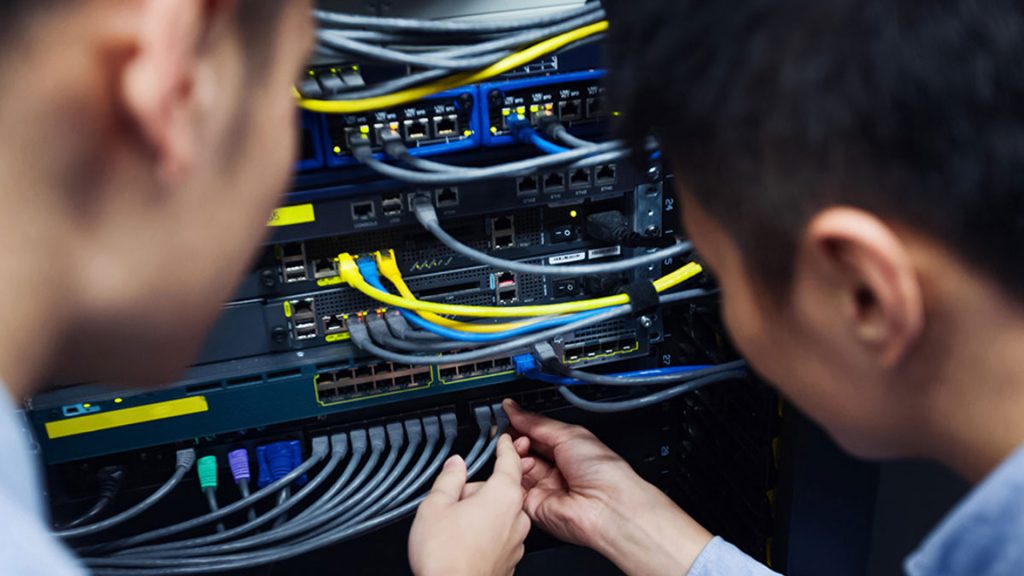 Managed IT Services For Business
We offer a full line of technology solutions for your business needs. Learn more about some of our premier services.
Managed IT Service and Support
Whether you are looking to completely outsource your technology needs or even if you only need certain parts of your technology monitored, we can help. We offer monthly service plans that are tailored to your business and best of all, we don't require any contracts.
Computer Security
Online criminals expand their skills every day. They are a constant threat for all businesses large and small. It is important to rely on a technology partner that can keep your network secure and protect your data. We can provide you with a security evaluation, install firewalls and provide endpoint protection. No matter what level of security you need, consider it done by MetroTech.
Cloud Computing
Many businesses rely on cloud software environments to run their businesses. However, not all software is the same or secure. No matter what business you are in, we can act as your software liaison to ensure your cloud software is the best for your business technology needs. We can help with migration to new platforms, application hosting, cloud storage options and much more.
Technology Consultation
Whether you need a team of technology experts to create a plan for your business or if you simply need hands on support solutions, MetroTech has got you covered.Our repair experts can help your business plan for downtime and work with you to get you up and running quickly when problems arise. Connect with one of our techs today.
Why Choose MetroTech For Your Business Managed IT Services?
We are a fast growing family owned business and not some big national chain. Our technology management services are tailored specifically to you and your business. We don't use a copy and paste solution used by everyone else. In fact, here are a few reasons to work with us:
Free Technology Estimates
When we assess your systems and network, the service is completely free. Our goal to earning your business is by earning your trust. We are happy to visit your business and provide you with an estimate. Get Your Free Quote Today!
No Contracts
We offer our monthly service plans at no obligation. We are so confident that you will be happy with the service we provide, you will have no reason to switch. Ever.
All Day Monitoring And Support
Technology issues can happen at any time. Your systems are monitored 24/7/365 and our staff is on call to handle any issues that come up during that time, so your business experiences little to no down time.
Friendly Tech Support And Staff
Our customers love us because we talk to them like real people. You won't get any tech speak from us. We work hard to maintain long standing relationships with all of our customers.
Certified Professional Technology Help
We have the training and certifications to back up our work. Our team is trained in computer repair to cyber security to network management and everything in between.
Do I Need To Switch My Managed IT Services Provider?
Many businesses are taking a proactive approach to their business technology as a way to prevent ongoing problems. However, do you know when it's time for a change? AS your self these questions:
When your computer systems have repeat problems and chronic failures.
When you want to ensure you are following compliance guidelines within your industry regulations.
When you want the competitive edge, your system must be up and operational.
You believe that reporting and statistics are important to run your business, wouldn't the same in IT be beneficial.
You're tired of surprise IT expenses.
MetroTech Is Your Full Service IT Support Partner
We are a full service technology support company for your business. We can support and repair your company's PC's, maintain your servers, update your networks, install firewalls, routers, VPN's, printers and much more under our service agreement.
Our List of Managed IT Services Include:
Cabling
Cloud Computing
Communication Lines
Computer and Server Networking
Computer Maintenance and Repairs
Disaster and Hurricane Recovery Plans
Domain Names
Equipment Installation Service
Firewall Installation
IT Help Desk Support
IT Systems Consultation
Malware Removal
Managed IT Services
Microsoft Exchange Installation
Network Systems Monitoring and Reporting
Network Security
On-Site and Remote Support Services
Product Purchasing Consultation
Office 365 Conversion
Remote Monitoring
Switch/VLAN Programming
Technology Systems Planning
Third Party Software Installation and Support
Virus and Spyware Detection and Removal
VPN Set Up
Wireless Networking
Vendor Liason
Learn More About Our Services
Want to learn more? Contact us on our website here, or call us at (727) 230-0332 for a complimentary assessment of your business technology today. No matter what your technology need are, MetroTech managed IT services has you covered.
Benefits Of
Managed IT Services
Peace of Mind – Know that we are monitoring your systems for failure, and will respond to it immediately
Easy Communication – One number to call, or better yet, we call you when we identify a problem
Flexible Levels of Service – Choose the amount of service you need for your business
Easy Budgeting – Rather than big ups and downs in payment for IT services, a simple flat payment per month
Better System Performance – Everyone hates waiting on the computer
Antivirus Included – The dreaded virus can and will be avoided, your data protected
No Long Term Contracts